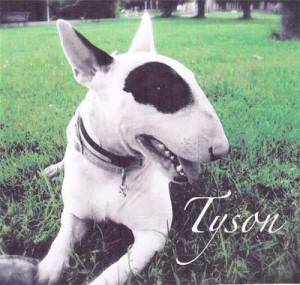 Poor Tyson! A neighbor's cat wandered into Tyson's 5 acres and was allegedly killed by Tyson. Animal Control did not open a case this time as it was unknown whether Tyson really killed the cat, whether it was sick or whether Tyson played too roughly with it, however, Animal Control will seize and euthanize Tyson if there's another incident with a cat or animal.
Since Tyson can escape his kennel run during the day, his owner is afraid that there will be another incident as there is no way to control any animals from entering her 5 acres of property. Tyson is 5 years old but he's still very much like a puppy – he loves to play and would be a perfect running partner. He happily lives with a medium sized mixed breed female. Tyson has chased the resident cat so he spends his days outside in a kennel run and sleeps in a dog house at night. He can initially pull a bit on a leash and he'll likely need a refresher on crate and house training. He has not really been exposed to younger children but has been fine with teens. Anyone have room for this charming 50lb guy? Our foster/adoption application can be found here: http://www.bullterrierrescue.org/?page_id=572
Tyson Fun Fact: He loves to chase butterflies!