We Remember

Louie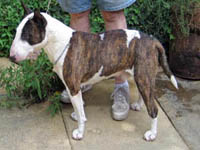 Dear Louie never got over being abandoned by his owner. We recently discovered that Louie was gravely ill with prostate cancer. We wish we had
known about his condition earlier but am glad that he was able to happily able to feast on Big Macs (his favorite!) until his eyes told us it was
time.
Rest in peace, little man.
Sharon, Cathy and Suz
Nate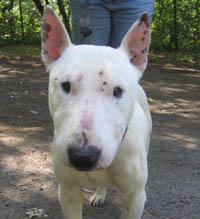 Nate arrived grossly underweight with worms, irritated eyes and skin problems.
Despite his apparent rough life, he remained a sweet and
happy-go-lucky guy and was the perfect patient.
We were saddened to learn that he had serious heart issues but
glad that we were able to give him love and kindness until he told
us it was time for him to go.
We will always remember Nate's spirit and his world-class ear nibbling.
Sweet dreams, little man.
Sharon, Lianne and Suz
Ursula (formerly China), January 2004 – May 22, 2007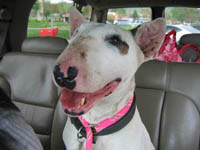 An outdoor dog, her entire 3 years of life, sweet Ursula came to
us with ear, eye and skin infections in late March 2007. Not only
did she bounce back from her infections, but also from a difficult
spay as it was discovered that she was pregnant. Just when she had
the chance of a lifetime for happiness in a foster (and probable
permanent) home, she began experiencing agonizing back pains. Sadly,
her diagnosis was advanced cancer of the vertebral bone. She continued
to live the life of a princess until her tired eyes said it was time to leave.
We are deeply touched by a generous and caring veterinary and online community who helped Ursula receive the timely medical treatments, pain management meds, and consultations needed for her comfort and diagnosis. We are grateful that Ursula was able to enjoy life as a pampered and cherished family member during her final weeks.
We miss you tremendously and think of you daily. Your buddies at Bullyhaven are still looking for you.
Sleep well, little mama.
Suz, Charley, Sharon and Nate