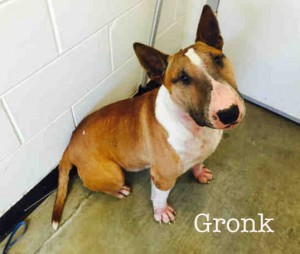 UPDATE: Gronk is recovering from demodectic manage and is on his final treatment.  He is actually not as high energy as originally thought – he's a typical Bull Terrier who is pretty chill after a couple of two daily long walks.  As a shelter favorite, he is spending time at a staff member's office where he likes to hang out under a bed with blankets after his walks. The shelter will start crate training him this week in preparation of us taking him into our adoption program. He seems to be house trained as he will wait for his walks to do his business; and he hasn't had any accidents in the office. He did well with a couple of intact male Pit Bulls when he was still intact, a couple of female Pit Bulls when he was neutered and he completely ignores the small dogs that snark at him when he walks by their kennels. He'll be walked by some kenneled kitties this week.  Gronk is truly a diamond in the rough.   More about mange can be found here:
https://happydognaturals.com/demodectic-mange
/.
Gronk Fun Fact:  After his afternoon walk, Gronk likes to go underneath his Kuranda bed, pull in his blanket and toys and look at you until he falls asleep.
He is spazzy, he is a force to be reckoned with and he is ridiculously sweet. He is Gronk! This busybody is about 3-4 years old; and he is ready to leave the shelter life way behind him! He can get overstimulated easily and will redirect with love nips so he'll need to learn some boundaries and manners. He is wonderful with people and tested nicely with other dogs. We do not know how he is the kitties and kiddies. C'mon – you need some Gronk in your life! He's looking for a foster spot so that he can enter our adoption program…won't you make that wish come true for him?
If your information is not on file, our application can be found here:http://www.bullterrierrescue.org/?page_id=572.