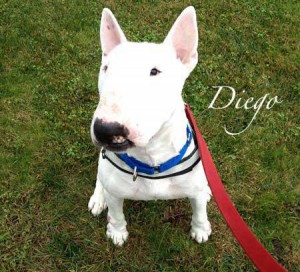 Sweet, wonderful Diego has recovered from his skin infections and just needs his hair to grow back in a few places. He has scratches on his knees and a tummy lined with bumps as he's addicted to commando crawling on grass and the sidewalk/streets (cars will stop and drivers will ask if he's OK!). Diego's about 5 years old and 50lbs. He is wonderful with other dogs and just reacted to an offleash, intact male who really got into his face. His endearing cleft lip does not hamper him at all; and he'll kiss you just fine with it. Diego is least, crate and house trained.
Diego's album: https://www.facebook.com/media/set/?set=a.10151177664853141.473838.59917658140&type=3
Please enjoy his video here (http://youtu.be/88KUaXr5hdo) Truly a delightful little guy.