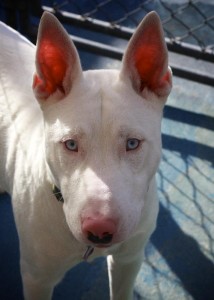 About Herbert

Status: Available for Adoption (adoption info)
Species: Dog
Rescue ID: 14-0006
Color: white
Eye Color: Blue
Current Size: 50 Pounds
Current Age: 1 Year 6 Months (best estimate)

Obedience Training Needed: Has Basic Training
Reaction to New People: Friendly
Herbert is a gorgeous 1 year old Bull Terrier mix who came to us from Martinez.  He is great with other dogs and really wants to play-when the other shelter dogs bark at him, he just does a big play bow!   He doesn't have an aggressive bone in his body. He is a good guy with a sound disposition – and he really needs a break.
This handsome blue-eyed guy is deaf, which honestly doesn't hold him back. What does hold him back is that no one has taken the time to teach this big pup good dog manners. For instance, he loves other dogs but sometimes steps all over them in his excitement. Some dogs are just fine with that. Others find it pretty annoying. He also loves people and is super friendly. But sometimes he gets a little excited and leaps up when he shouldn't. You get the idea – he's an enthusiast.
With consistent training, he will learn his boundaries. Please give him a chance to achieve his full potential – and if you can't adopt him you can still help out by joining our volunteer program and taking him out for an afternoon in the park!  He is microchipped, neutered, up to date on vaccines and ready to go home!
From his foster:
He's clearly able to bond with and seek affection from humans — he asks for pets, gives me kisses and comes and checks in on his own accord.  All good things for bonding with a potential adopter.
I think he would do well in a place with a big enclosed yard so he could burn off his working dog energy. Or with someone willing to exercise him every day.  I also think another dog would be very good for him – I've noticed first hand that he does pick up good behavior from my own dogs.  He really follows their lead.  And most importantly, he's learning the rules of the house, doing much better being a decent house pet around here.
He's also incredibly smart, I've really been impressed by his intelligence. He needs someone who appreciates this and is willing to train him or put him to work.
Would you like to meet Herbert?  Please fill out an application at norcalfamilydogrescue.org.
More about Herbert
Good with Dogs, Good with Older/Considerate Kids Only, Good with Adults, Somewhat vocal, Likes to play with toys, Needs special care, Playful, Affectionate, Eager To Please,Intelligent, Goofy
Please contact Northern California Family Dog for more information on Herbert:
http://www.norcalfamilydogrescue.org/animals/detail?AnimalID=6507115