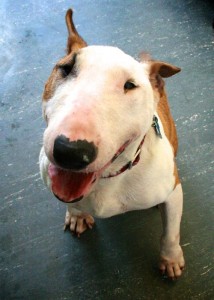 About Geronimo

Status: Available for Adoption (adoption info)
Species: Dog
Rescue ID: 14-0243
Color: white/brown
Current Size: 35 Pounds
Current Age: 6 Years 6 Months (best estimate)

Housetrained: Yes
Reaction to New People: Friendly
Everyone please say hello to Geronimo. A 6 year old Bull Terrier who was surrendered to us by a caretaker after being abandoned by his original owner.  Geronimo came to us severely emaciated from lack of proper nutrition but is now doing much better! He is getting along really well with other dogs his size and bigger. We are not certain how he does with smaller dogs. We are also certain that he is not fond of cats. Geronimo is great around people. Though he has had a rough start, he is very trusting of his humans. He may be fearful of small children, so we are recommending him to a home with older considerate children. This boy is very energetic and loves to rough n tumble with other dogs. He would do great in a home where he will be getting lots of exercise and/or has a buddy whom he will play with to his heart's content.
Here's an update from his foster mom!
"First and foremost he's amazing. He's such a good dog. Hands down the most well behaved dog I've ever fostered. He's super potty trained and we have had no issues there. He also doesn't mind being put in his crate when I leave the house to run quick errands. In the car he's awesome too.
I'm a big runner so I've taken him on quite a few, which he loves but he does get tired after a mile or so and starts waddling. Which I don't mind at all, it's more cute than anything. I took him to the beach today and he loved it and he plays very well with the other dogs. My neighbor has an 8th month old husky girl and he and her play in my back yard together whenever we happen to randomly be taking both our dogs out at the same time.
He knows sit very well and I'm trying to teach him to lay down and stay on command.
Honestly, he's precious! Very sweet and not high-maintenance at all. I think he'd be great with a family and work really well with another dog."
If you'd like to meet Geronimo, please fill out an application on our website: norcalfamilydogrescue.org.
More about Geronimo
Good with Dogs, Good with Older/Considerate Kids Only, Good with Adults, Likes to play with toys, Needs special care, Playful, Affectionate, Eager To Please, Even-tempered, Goofy
More information about Geronimo can be found here:
http://www.norcalfamilydogrescue.org/animals/detail?AnimalID=7068405
Updated 7/15/15