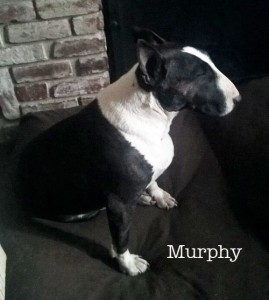 Poor Murphy! After being stolen and recovered the next day in July, his family's rented home has been sold and the only affordable housing option is an apartment where pets are not allowed. Would anyone be available to foster/foster to adopt this super sweet and dreamy 5yo guy? He is good with dogs of all sizes and has lived with a submissive male bull breed mix without any issues. He has been great with the toddlers in his family, is house trained, is good on a leash and may need a refresher on crate training.
His original link: https://www.facebook.com/BullTerrierRescueInc/posts/10151476353543141
If your information is not on file, our application can be found here: http://www.bullterrierrescue.org/?page_id=572.