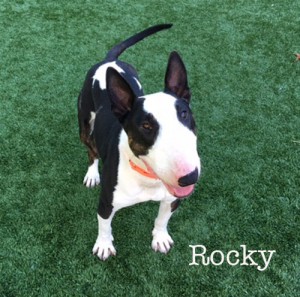 Rocky became homeless when the mobile home park his family was living on closed. This 15mo guy is super sweet and so people-focused.  He hasn't been taught any manners but he should learn them quickly as he is so eager to please. Rocky is being crate trained at our interim boarding kennel and he'll some house training as he lived outside or in the garage in his former home.  He was wonderful with the three toddlers in his former family but his energetic antics might accidentally knock down the little ones.  Although he did not live with other dogs, he was good with the ones in the mobile home park.  We do not know how this 45lb guy is with the kitties.
Rocky's slideshow:
https://www.facebook.com/susi.ming/videos/10210309181305701/
If your information is not on file, our application can be found here: http://www.bullterrierrescue.org/?page_id=572.